Aug. 9th, 2005 | 12:26 am
mood: sleepy
music: Mr.Big - To Be With You

I had a cool day.
I had lunch with my friend Evan. After lunch we basically went to some pharmacy store which they had a bunch of nice trinkets and Martha Stewart items about.
I was going to take a picture of the guy that works at the resteraunt, Steven, he's awsome. I don't really like Americanized Chinese food but I love going there because they always have different stuff and I normally just eat mushrooms and jhiao zi. I love chinese doughnuts, well the dough bread they make. The people there know me quite well, since they don't provide white rice I always ask them for a bowl of white rice, lol.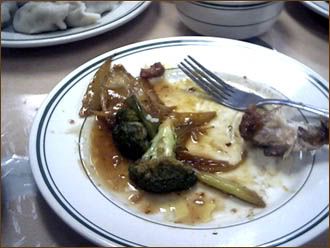 I was full after that, I LOVE mushrooms, this is why I come to this resteraunt. Mmmm.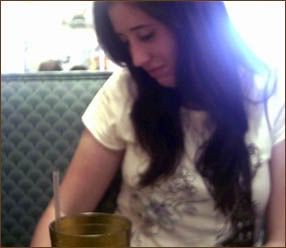 My friend Evan, she's a sweetheart.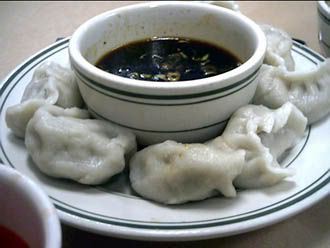 We had some dumplings~, I took the leftovers home cause I LOVE dumplings. I make mine with alittle less dough though. These had too much, I like them though. The sauce was just right too.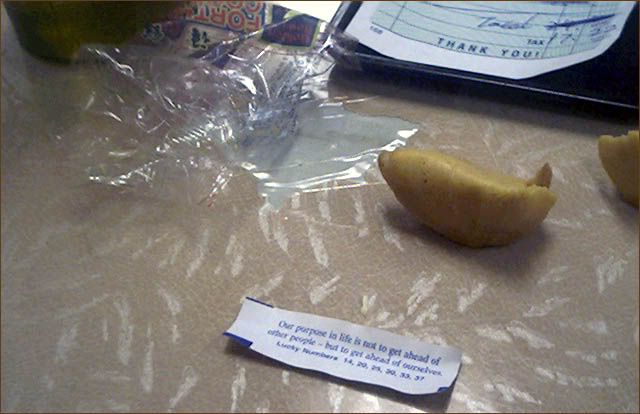 I opened my fortune cookie, if you can read it, than you're freakin awsome.
Most of the time, my fortune cookies always seem to be on the money.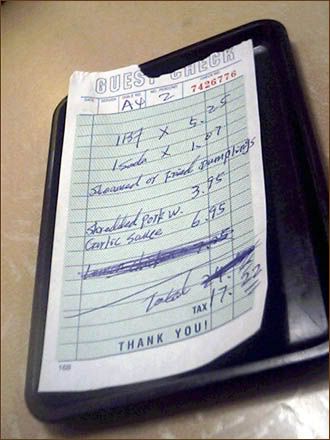 The bill wasn't that bad, we both payed seperatley. I had the buffet, which I only had nummy muchshrooms and chicken. and Dumplings.~ <3
After the resteraunt we headed down to this pharmacy and we just went in to check out the place, they had Yanke candles which were one of my favorite brands. The Linen cloth was very light in smell. I liked it. Although, it was 7 bucks for a small candle, lol.
I took a picture of a cute turtle I saw ontop of the counter.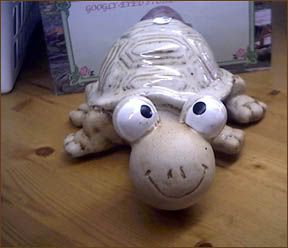 When I turned the turtle just smiled and stared at me, I had to take a picture~ Kawaii ne?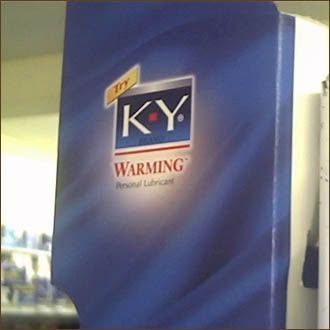 :o~
Adam needs to buy some.~
After that Evan and I went to this furniture store and like, we were there for awhile because we were just so entertained by the fake foods being displayed on the tables that were for sale and the cabinets and whatnot. I remember as a little girl I would always play with the fake foods like breads and other pastries they had on display.
However, I had never seen fake soup and fake.. scrambled eggs. Especially for such a high price!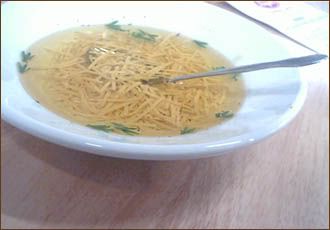 Doesn't it look real? It's actually fake and it was on display on top of this very ugly 500 dollar kitchen table for four.
you could tell it's fake though by the spoon erecting itself out of the soup.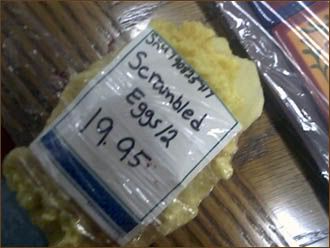 This caught my attention, this was basically the most oddest thing I've ever encountered. it's fake scrambled eggs and you can basically buy it for your.. kitchen? and display it there, make it look nice, it's only.. 20.00 bucks..Pah!
It comes with 2 not 12, lol.
After that mess, we went outside to the 99 cent store on our way there I had met with a friend of mine, Julio, who works for the furniture store we had just visited. He's a sweetie, he's into the cars and whatnot, I didn't get a chance to take a picture of his car. I got pictures of him though.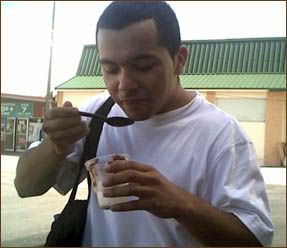 He's such a Mexican, lol ~.
So we went to the freakin 99 cent stores and let me tell you what Evan saw! You're familiar with those Bratz dolls? Those big headed dollz that have huge lips and big eyes? Well..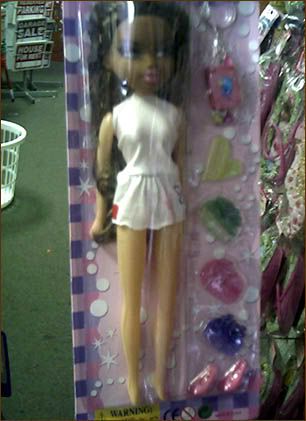 They apparently have a new character.. Hmm. She's literally black and white. Lol.
This was obviously an Asian bootlegged import, I had to take a picture, I was tempted to buy it as well it was only a dollar but I dont know what I would do with a derranged very ugly doll.
They had about six in stock, all the same head and body.. odd.
Man, I'm tired. I want to hit the sack but my female instincts are telling me no, I need to brush my hair :'(